RT Darkrooms and UT Labs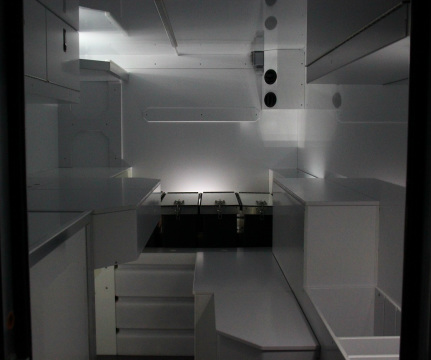 This line of RT specific labs feature:​
​
-Stressed Skin Panels and EXOBODY construction
-Revolutionary structural aluminum exoskeleton frame, a method proven in aerospace, marine and rail system transport
-Complete PVC interior cabinetry and components for zero maintenance, lightweight, and superior chemical resistance
-True interior modular construction methods with many options and unlimited customization available
-Low current LED lighting and energy efficient ventilation fans
-All exterior trim is stainless steel or aluminum for strength and corrosion resistance
-Solid 1/8" pultruded fiberglass flooring
-Large outside storage cabinet
-Remote tank bay drain system with freeze protection
-Fits ALL truck bodies
-Radio, CD, USB Charging, and iPod/mp3 integrated stereo system optional
"Bolt-less" Attachment Options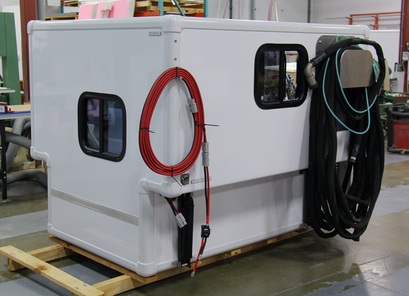 We have developed a method to secure our units to vehicle decks and truck boxes that requires zero modification to the vehicle. This is ideal for applications that require frequent vehicle changes, or situations where modification to the truck bed must be avoided. This is especially useful with slip-in body units that make installation and removal a quick and painless job.
Our company has a long standing history with off road specific industries. The exterior design of these units allows them to withstand the harshest of conditions; temperatures ranging from +40 to -50°C, as well as the constant vibration of a vehicle driving through rough terrain while still being the lightest in the industry.
Unit dimensions and layout can be customized for any customer's needs.
Integrated Lifting Points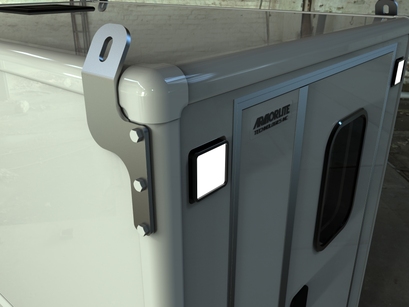 Using in house developed tooling and techniques we are able to include integrated structural hard points with all of our units. These points can be used as lifting lugs to move units between vehicles or act as auxiliary attachment points for securing units during transport and use. They also provide a very strong mounting point for attaching job specific equipment.

While these anchors are typically placed into the unit during assembly, our proprietary procedure also allows anchors to be installed on completed labs. Anchor points are completely sealed from weather and accept standard bolt thread allowing for easy field manipulation.
Custom Designed Service Bodies, Slip-in units and Darkrooms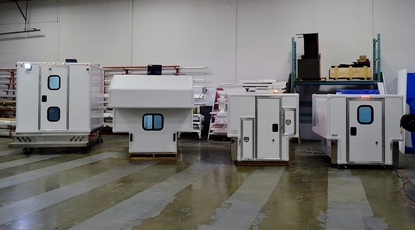 Our exoskeletal construction allows our specialty panels to endure movement over harsh,unforgiving landscapes frequently encountered in radiography and NDT field work. This rough terrain has led us to develop custom light durable truck bodies that excel even in the most challenging environment.
The modular nature of our
​EXOBODY construction
allows for many different form factors. We have designed everything from 18' long insulated enclosed trailer pods, full height stand up units, to compact sit down units. Our newest slip in overcab unit strikes a balance between full height standing room while still installing easily into a standard truck box.
​These mobile units are capable of housing durable shelving and racking systems, and due to their highly insulated construction are well served handling your refrigerated storage needs.
First Aid Units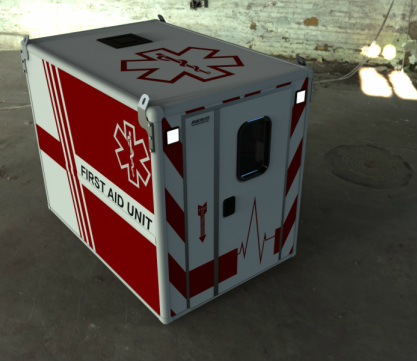 This new First Aid Station was designed to address the need for onsite medical stations that were easy to transport, lightweight, reliable and still be cost effective for companies wanting to run multiple units across large job sites.

The rot proof materials used in all our labs work perfectly with the stringent requirements of medical aid. These units were sized to fit between standard double doors yet still accommodate a full sized single cot with room for a medical attendant to work.

The units can be completely outfitted with all standard safety equipment (Level 3 Medical Kit, Stretcher, Eye Wash Station, Sink, CB Radio, etc.), or can be setup to suit the wide variety of job site needs.

Our vertical lifting lugs make these units easy to place exactly where required providing a safe, warm and clean location for your workforce when the need arises.


Single Point Interior Cabinets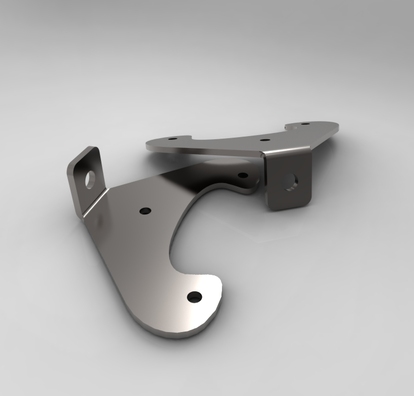 We have carried over our tried and tested method of exterior anchoring to the inside of our units as well. With our custom designed hanging cabinet mounts we can provide a simple, single point attachment method to all our interior cabinets. This not only speeds up the installation procedure in our production facility, it also gives the customer the option of adding or removing cabinets as they see fit. Since screws are not needed in our hanging cabinet installation there are no permanent holes left in the unit sidewalls after cabinet removal.

All cabinet mounting brackets are laser cut from stainless steel and CNC bent to ensure perfect and repeatable fit. They have been dynamically load tested and provide the strongest attachment method possible.







Specialty Panels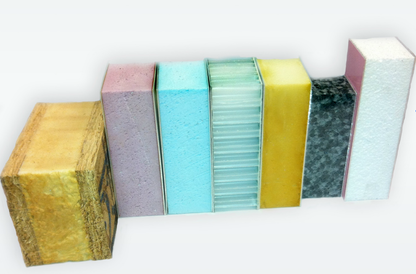 Our panels are constructed from structural grade aluminum and specifically chosen cores that meet the customer's load requirements. The panels are then bonded using our proprietary vacuum press. Our bonding method ensures complete panel integrity with ultra high strength to weight ratios. These panels can then be utilized to fulfill any requested applications. Applications may include: buildings, expedition vehicles, trailers or truck bodies etc using our EXOBODY construction method.

Our panels are mold, rot proof, and require no maintenance.